BEAUTY : BLACK POWER
Smoky make up, night black.
The femininity for the 2019/2020 winter is in the Dark Lady version.
The color when used with class enhances beauty and femininity.
We learn to use it and to dose it with taste.
The most important dress in our wardrobe is without doubt the Black Sheath
the little black dress is suitable in many situations
the dress is always modern
.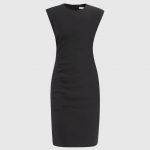 With the same dress it is possible to create many different outfits:

the black dress is ideal to wear with a decollete in tone or alternatively with a contrasting colored shoe, I recommend the red lacquer as tone is always elegant and is a classic chic.

Both in paint and suede.
Personally, I prefer to wear very fancy shoes with black little dresses like these for example:
I got a lot of nerve, I know.
Remember that you should never wear clothes that you do not feel comfortable with. You would look awkward.
As for the red leather material, instead, I think it is more suitable for more casual outfits and therefore I see it as ideal in shoes of this type:
Let's go back to our black dress
Funny is the black dress mixed with a sneaker and black leather jacket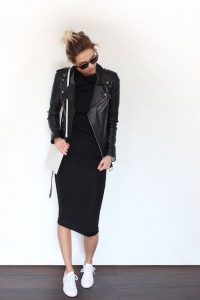 It gives us a carefree and elegant air at the same time.
and the black dress with a denim jacket?
This outfit is also very original. it is comfortable, functional, suitable for an afternoon in the city and an aperitif in the evening … (maybe we can wear a shoe with a heel inside our bag for the evening … in my opinion the heel always gives more femininity). But if we have a business meeting or simply want to be settled and feminine let's put it with our black dress a nice jacket in the same color or contrast .. tight at the waist and soft on the hips .. and voila … perfect result
SMALL TIPS to choose the sheath:
the sheath must be ... not too short or too long.

it must not have an irregular cut if we want it to last over time without ever getting tired.

it must be without applications, stones, embroidery ... nothing that could affect its use.




Whether it's jersey, wool, velvet, crepe, silk, (evening) or neoprene (for an alternative choice) our black dress, 
if tight, must be wrapped and never 

tighten ... enhance and not constrain our figure .
It must be beautiful on our body ... to every physicist is equivalent to a model and a different neckline ...
 but of this we will talk about it another time.
Delicate fabrics like silk can be worn with thick wool covers
Fabrics such as lace inserted in gritty outfits with some less feminine element … like trousers or a male jacket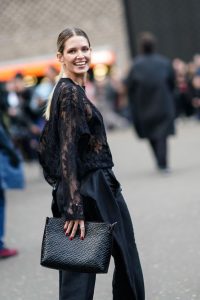 Leather or sequin leggings with over-size mesh
The tulle fabric played down with jeans
And what do you think about that? I love it!!!
and finally give a touch of class with...
if you choose to wear elegant, alternative, casual ... if you want to look chic, dark, rock, pop

or you want to wrap yourself in warm cardigans or let yourself be caressed by the lines of a close-fitting dress ..

before entering a boutique to make new purchases, make a brief check in your closet ...

I'm sure it contains more than you can remember .. and that it is complete for every eventuality !!! All you need is a little more attention on your part ...

try to dare ... bring out that garment you used only for special occasions and give it a new life.

"Recycle" your clothes can be fun and rewarding.

In order not to leave abandoned garments in the closet that remain unused from season to season I put a coat hanger in the room ... like this ...
Once a week I prepare 7 outfits from the most comfortable to the most sophisticated complete with everything, clothes, accessories, shoes ... everything I want to put back in the middle ..

so I am not forced to always put the same things every time .. out of concern .... lack of imagination in the early morning ... etc. .. So do it too ...




OPEN THE WARDROBE mix the clothes, start with your favorites and create as many outfits as possible ... play with your imagination ... because the truth is that only when you wear a garment with pride and confidence do you make it "FIGO" even in the eyes of who looks at it.




but remember not to overdo it with the things you wear ... simplicity is synonymous with elegance and always wins ...

the focus must be on one thing ... that it is the dress, the shoe, the lipstick ... only on
As the greatest representative of elegance said: "Before going out, look in the mirror and take something away"
it is a right thing

 :-)